How You Can Help
DONATE
A monetary donation can go a long way in providing Bibles of various types to those in need. By joining us in this way, you store up "treasures in heaven, where neither moth nor rust destroys, and where thieves do not break in or steal" (Matthew 6:20).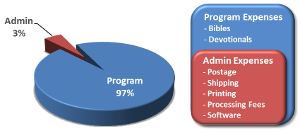 BUY
If you would like to purchase a Bible at your local bookstore and donate it, please contact us for delivery or pick-up information.
Our greatest Bible needs:
NIV Study Bibles
NIV or ESV Outreach Bibles
NIrV Children's Bibles
NVI Spanish Bibles
Large Print Bible
USED BIBLES
We welcome donations of Bibles in "like new" condition and in easy to read translations.

Help Us Share the Word of God
Would you consider donating today and being part of putting the powerful, life-changing Word of God into the hands of one in need? Thank you for your prayerful consideration and for partnering with us in this most important mission. God bless you!
Urban Bible Outreach is a 501(c)(3) charitable organization; gifts are tax-deductible as allowed by law.
How You Can Donate
THANK YOU for your gift to Urban Bible Outreach. People all over our community are reading about our "God who saves" (Psalm 68:20) and lifts them "out of the slimy pit, out of the mud and mire" (Psalm 40:2) because of your donation! It is encouraging to be joined by others who share our concern for the lost and hurting all around as well as our passion in seeing them find true, abundant life in Jesus Christ!







Credit/Debit Card or PayPal via secure PayPal site (Verified):
Recurring Donations via your PayPal Account


Check payable to:
Urban Bible Outreach
P.O. Box 863971
Plano, TX 75086



Donate new Bibles via our partner, LifeWay, at their Plano store.
Your Gift Makes a Difference!
$4.50

Provide a large print Bible for a homeless man or woman

$4 (or 5 for $20)

Provide a man or woman in crisis a Spanish Bible

$8

Provide an abused or homeless child with God's Word

$8.50

Provide a child displaced from their home due to domestic violence with a Bible

$2.50

Provide 25 women in a crisis pregnancy with a gospel tract

$9

Provide a man in a 12-step addiction program with a study Bible

$13.50

Provide a neglected teenager with a Bible